Welcome to www.dtwatches.com
SOLD TO ROY OF HONG KONG via FACEBOOK, JULY 2013
ebay seller with GOOD record Since 1999, please click and check!!
Join My Newsletter To be Kept Informed of New Watches In stock!!!
Join My FACEBOOK Page, direct discussion for buying of Pre-Owned Watches!
I am going to list more watches for sales, please join my newsletter to be kept informed of my new listing!! Click here to Subscribe My ebay Listing!!
¡@
Rolex Model No. 6694; Manual wind Oysterdate, Stainless Steel classical style (STOCK 2133)
Band SOLD, Watch Head ONLY
Man Size Rolex : Diameter 37mm including Rolex Crown
Shine Bezel, Minty Original BLACK Dial White letter WITH SILVER MARKERS, Original Rolex Crown
Raised SILVER baton minute markers!
Excellent condition
Serial 2.63 million
Non-Quickset date, Clear crystal
Original Rolex cal 1225. Runs strong and keeps good time.
My test shows -20 seconds per 24 hours running. BUT, I guarantee +/-30 seconds due to differences in the actual running environment.
NO BOX NO PAPER.
Band SOLD, Watch Head ONLY
For price, please sent email or go to my homepage
The dial is very clean. The spots is dust on dial.
The original Rolex 78350 solid oyster band is in excellent condition. Very tight.
The above photo shows angle of the legs. The dial and cover is clear. The dull tone is my hand sweat. SORRY!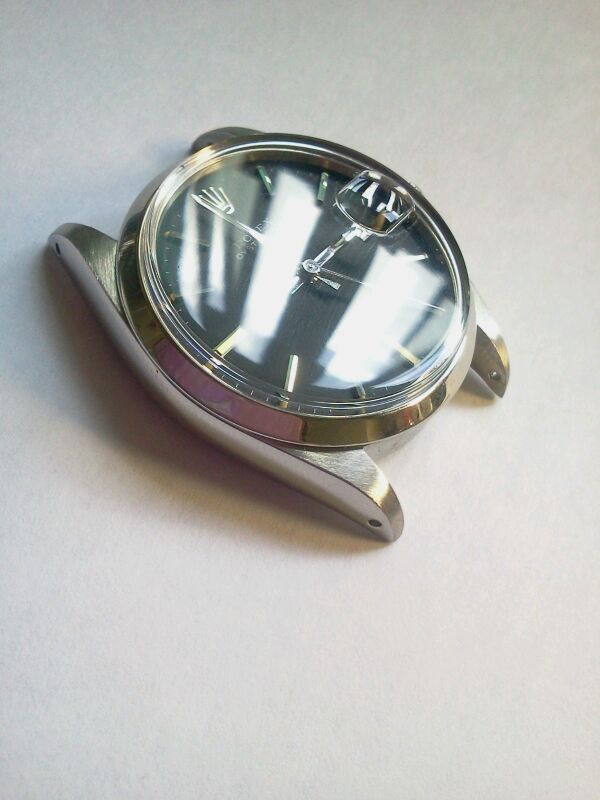 Correct cal 1225.
¡@
I HAVE OTHER WATCHES ON MY PRIVATE SITE : PLEASE CLICK HERE
IF YOU ARE INTERESTED, PLEASE INFORM ME... :_)
To Join My watch Sales Newsletter, Please Click Here!!
Payment :
A) If you are in the USA, direct bank deposit to our US bank account
¡@
B) International bank to bank money wire to our Hong Kong account
¡@
C) Western Union transfer www.westernunion.com (credit card payment available).
¡@
Paypal is NOT accepted due to many chargeback abuse of credit card!
¡@
Delivery:
Fixed USD50- (pay by buyer) by EMS SpeedPost WITH 90% INSURANCE COVERAGE!
No P.O. Box address accepted.
Once the item past to EMS Speedpost, We shall provide you with the tracking number. Then we will NOT be responsible for any liability.
¡@
For more information of EMS SpeedPost, please refer to http://www.hongkongpost.com/speedpost/eng/index.htm
¡@
We DO NOT ship to Italy, middle East, Africa.
¡@
Return Policy:
If for any reason(s) you don't satisfy, please return the original watch and packing within 7 days from your receiving the item. We shall arrange refund. Please be noted that there will be a re-stocking cost of 20% of the selling price. The returned item should be sent back in 100% of our delivering condition.
The refund shall be made via paypal.com ONLY!
Your pyrcgase is a part of the contract and means you accept all the terms and condition listed above.
For questions, please feel free to contact us! HAPPY BUYING!!
¡@
SOLD TO ROY OF HONG KONG via FACEBOOK, JULY 2013
¡@
Join My Newsletter To be Kept Informed of New Watches In stock!!!